QB Copper Recycling is an expert company recycling non-ferrous metals for years in Perth.
Get in touch with us if you want to dispose of your non-ferrous scraps from your property.
Non-ferrous Scraps in Perth
At QB Copper, we comprehend the idea of non-ferrous piece metals, that these sorts of metals are the slightest destructive, minimum responsive metals that don't contain any iron, consequently, don't get pulled in to magnets by any means. These sorts of metals are anything but difficult to reuse because of its mellow compound response. Our abilities, skill and experience of years assure you that we take additional care to reuse a wide range of non-ferrous metals utilising the most secure eco-friendly strategies to guarantee no harm is caused by our nature. Our expert and skilful staff know the correct methods to wreck, dismantle, melt and recycle a wide range of non-ferrous metals in Perth.
Do you want to safely dispose of your non-ferrous scraps from your home or office? Contact us Today!
We provide services that include:
Scrap Metal Pick Up
Ferrous Metals
Aluminium
Iron
Copper
Car Batteries
Get Top Dollars for Non-ferrous Scraps in Perth
At QB Copper, we comprehend the significance of safety when disposing of non-ferrous scraps in Perth. This is the motivation behind why we pay top dollars for your metals – we'll purchase from you and reuse all the recyclable parts that will be used in different areas and for different purposes.
Next time you are clearing non-ferrous scraps from your property, ensure you consider pitching them to us, and consequently, get top dollars for all your non-ferrous piece metals.
Your non-ferrous metals can include:
Cans
A wide range of copper
Metal
Bronze
Lead
Car batteries
Engine parts
White goods
Electronic compressors
Protected wirings
Car radiators
Stainless steel, and so on.
A wide range of aluminium sheets and different materials
QB Copper Recycling recycles nonferrous metals. We pay cash for the recycling of the
metals, keeping up to date on current metal prices to ensure that we don't let our customers
down with lowball offers.
Non-Ferrous Metals
Nonferrous metals are metals like zinc, tin, tungsten, aluminium, magnesium, nickel, gold,  copper, lithium, potassium, silver, lead, palladium, and platinum to name a few. These metals are found in a variety of products that QB Copper Recycling will buy to recycle. Whether you are a scrap metal collector or have recently "cleaned house" and have a truckload of scrap metals that you wish to get rid of, we will pay you cash for their recycling. We buy all types of products containing nonferrous metals, including but not limited to:
Auto batteries
Brass faucets, and other brass products
Cable, wire, and fence
Bicycles
Aluminium wire
Aluminium pots and pans
Aluminium wheels
All products containing aluminium
Copper tubing
Christmas lights
Screen doors and window frames
Stainless steel such as kitchen sinks
Tv cable
Electric motors from tools and equipment
Copper and brass plumbing piping
Insulated wire
Copper
The list of nonferrous metals that we will recycle is nearly endless. To obtain a list of our metals, or to receive a cash quote for your metals, please contact us.
Eco-friendly Non-Ferrous Recycling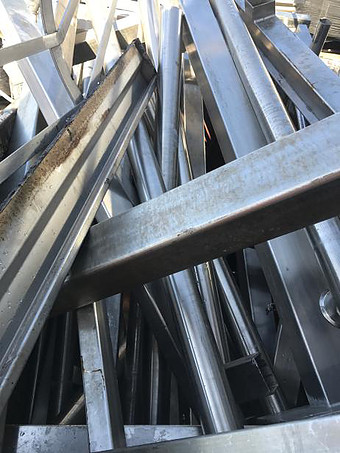 The motivation behind why we are so quick to purchase your non-ferrous scraps is to reuse them and utilise the parts for different reasons. Once your pieces are discarded at our recycling centre, we'll take additional care in isolating the parts and dismantle, wreck, mould, and reuse as per the compound components display in them.
Distinctive metals require diverse procedures with a specific end goal to avoid hazardous complications while Recycling of Scrap Metals. This is the reason we select the best staff with relevant skills and expertise to help us conduct eco-friendly non-ferrous scrap recycling.
Bin Hire from QB Copper in Perth
At QB Copper, we know how many challenges you have to go through to safely dispose of your non-ferrous scraps. You can't just dispose them at any landfill. This is why we offer a range of bins for hire. Complete the form on this website and we'll provide you with the right sized bin.
Contact Us